The Knowledge Media Institute (KMi) was set up in 1995 in recognition of the need for The Open University to be at the forefront of research and development in a convergence of areas that impacted on the OU's very nature: Cognitive and Learning Sciences, Artificial Intelligence and Semantic Technologies, and Multimedia. We chose to call this convergence Knowledge Media.
Showcase
People
I'm interested in epistemic beliefs - beliefs about the source, structure, justification and stability of knowledge - and their relationship to actions by individuals and organisations. On the...

I produce HTML5 and Flash software, computer images and animations for the KMi.
Publications
Daga, E., d'Aquin, M., Gangemi, A. and Motta, E. (2015) Propagation of Policies in Rich Data Flows, 8th International Conference on Knowledge Capture (K-CAP 2015), Palisades, NY, USA
Future Seminars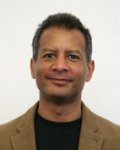 This event will take place on Wednesday 14 October 2015
Prof John Domingue - KMi, The Open University
Forging Online Education through FIRE (FORGE) is a project bringing the FIRE and eLearning worlds together. FORGE aligns FIRE (Future Internet Research and...